Daniel
The story of Daniel begins with his birth and early life. Daniel's early years with Jonathan and Katherine Ellington were wonderful and loving years. His parents supported his love for music and encouraged his desire to play the piano. He soon became a virtuoso at the age of 7 years old. He was welcome to the international stage and his talents were renown.
Buy Now - Amazon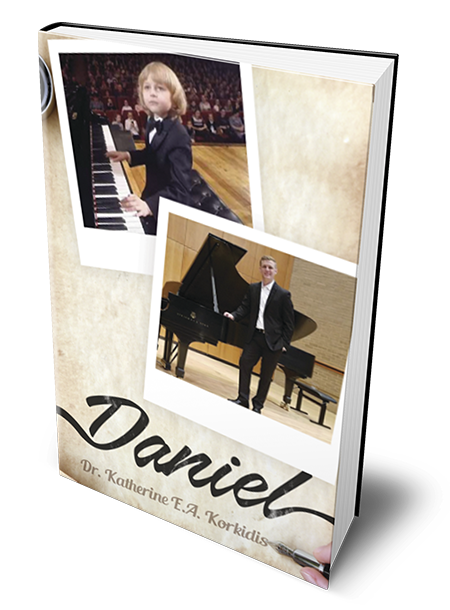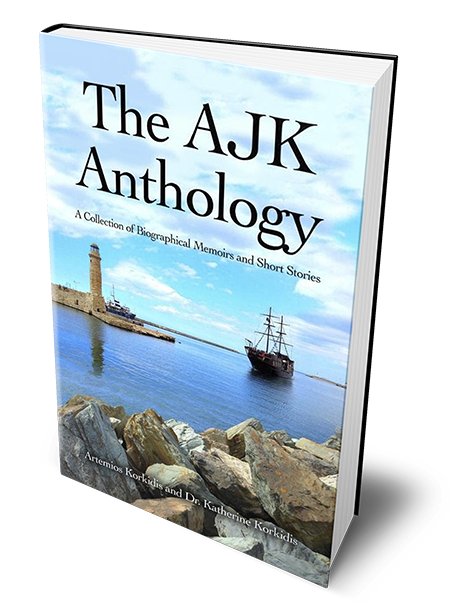 AJK Anthology
The AJK Anthology is translated from my father's original works and with the addition of new content it is now published.
eBook and Print copies will be available early April of 2022. It is a work of historical fiction interlaced with his memoirs.
During the Nazi occupation of the island of Crete in 1941, there lived a young man, Artemios John Korkidis.
In a series of biographical memoirs, short stories, and a lifelong collection of personal reflections,
be transported through the horrors and hardships of war as one man learns that there is always hope in the future.
Buy now - Amazon
Josette
The story begins with Josette at the age of 25 years old. She has just returned to her childhood home from a successful classical piano world tour. It is snowing outside. As she glances at the snow through the window of her childhood bedroom, she reflects upon her past. She begins with the events of her 8th and 9th birthday – a turning point in her life. As Josette remembers all, she hears a voice and realizes it is Daniel, the man she loves, calling her. The urgency in his voice compels her to find him.
Buy now - Amazon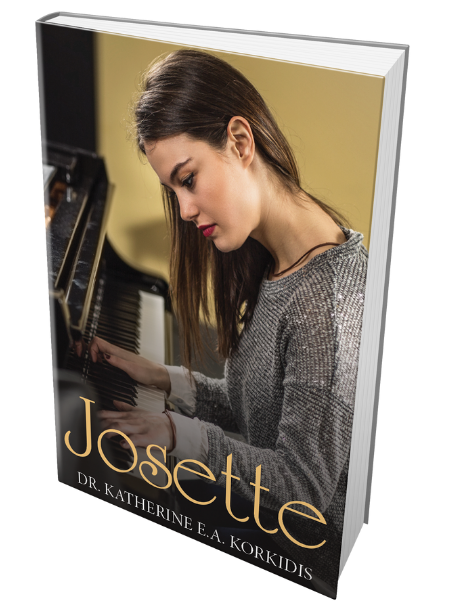 Reviews
gaetano

Reader

"I'm not usually a fan of the romance niche however a good friend of mine recently read this and recommended I give it a read.
Overall was very well written and the plot was great and easy to follow."
richardreviewsbooks

Reader

"A story of strength and compassion

I recently read "Josette" and I must say, it's a well-written page turner that had me fully invested from the first chapter.
This genuine tear-jerkier tells the story of a strong yet compassionate young woman named Josette, who has encountered tragedies in her life but perseveres to find love and success.

The book is captivating and heartwarming, and the author's attention to detail in certain moments made me feel as if I were actually there.
The author also provides real-world examples, which make the story thought-provoking, timely and relevant.
I appreciated the reminder that there's always hope even when you're at your lowest.

One of the things I enjoyed most about "Josette" is the protagonist's strength of character.
She's a modern-day classic, with a strong will to survive tragedy and a willingness to work hard to create a successful life for herself.
The book also has a satisfying ending, which left me feeling optimistic and inspired."
Cs

Reader

"Really enjoyed reading this book - interesting story that reminds you there's always hope even when you've at your lowest. Can't wait for her next book!"
Lisa Ciccia

Reader

"I think anyone who reads this book can find a piece of them somewhere within the story line. Even if you don't see it right away you will find it by the ending. At the very least we all need to rely on hope at some point in our lives and you will certainly find that here."
Momma C

Reader

"Wonderful story with a great ending
One person found this helpful"
Reader

Reader

""It has turned very cold as winter is setting in!
BUT.....I spent the last few days inside with "Josette"!!
She is such wonderful thoughtful, insightful and loving company!!!
I was walking with her on her journey to make sense of life (happiness and sorrow) and how these life events affect people and can determine their actions and hearts.

She is a lot more musically talented than I am, but she let me come along and share a part of her life!!! Thank you Josette!""